#EDO 2020: LIVE SITUATION REPORTS ON EDO ELECTION
10:40am: Ward 4 PU 4, Owan West LGA. It was noticed that voting has been going on without result sheets. Voting has been stopped until the result sheet get there. Security agent seen appealing to voters.
10.58am: At Ovia South-West local government, ward 7, PU10, voting going
11:00am: PU 005 (Isiohor, Army Children School) Ward 06 (Oluku) under Ovia North-East. A man was caught using a PVC that is not his and was taken by the security official and that caused an uproar among the party agents
11:17am: LG:07, Ward:02, PU: 01. Voting in progress. INEC officials complain of card reader not authenticating,language barrier, Translators available are indecent and Voters not observing Social distancing.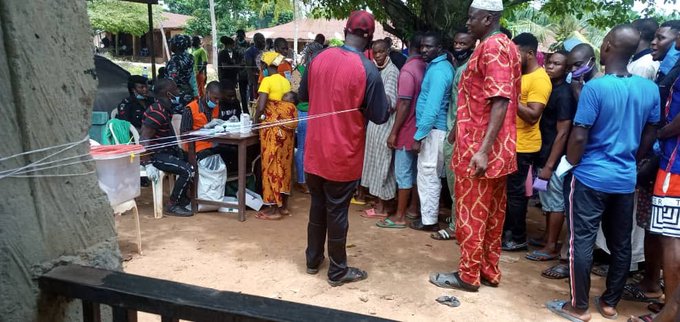 11:15am: Ovia South-West local government, Ward 7, PU:10, police officers are seen standing very close to the polling booth while they watch voters cast their vote.
#EDO 2020: LIVE SITUATION REPORTS
11:23am: At Ozalla Community, Owan West LGA, Ward 1 Pu 02. Time: Some people were seen carrying the umbrella showing the PDP colonies and logo which is against INEC guidelines.
11:35am: The ex-national chairman of All progressive Congress, Adams Oshiomole has cast his vote at polling unit – 001, Ward 10, Iyamho, Etsako West LGA.
11:45am: in polling unit 05, ward 08, Ovia South-west local government. Election is going on peacefully. There is a large crowd, thus, people aren't observing the Covid-19 protocol
12:00pm: Edo state deputy governor, Philip Shaibu, casting his vote at his Ward 11, unit 5
12:12pm:
#Edo 2020: Owan East Ward 11, PU 13 (Warrake), Owan East. The queue is highly congested, a reason the PO (Mr Osaro) of the unit faulted on the land mass