See Photos Of What Veteran Actress Victoria Inyama Looks Like Now
Nigerian movie industry now known as Nollywood has witnessed a lot of talented and beautiful actresses. One of such actresses is beautiful Victoria Inyama.
Victoria Inyama was popular in the early'90s for her acting prowess. During her active acting career, she was described as one of 'Nollywood's sweethearts' because of her versatility and prolific acting skills. Inyama is not only beautiful but she's also talented as she kept viewers on the edges of their seats in her movies. She was one of the hottest and most sought after actresses in the movie industry before she disappeared from the movie scene.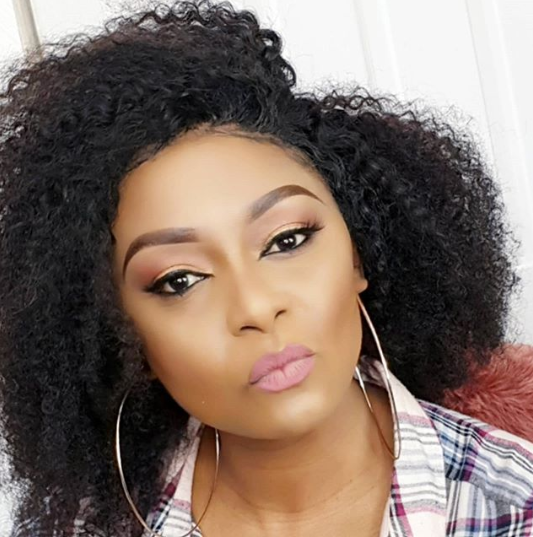 The Arochukwu Enugu born actress, made her debut in Nollywood in 1990 in the popular TV series, 'Ripples' which was created and produced by legendary producer, Zeb Ejiro. She was introduced into the movie industry by veteran actor, Alex Usifo who noticed her talent. Since then she has featured in different Nollywood movies before she disappeared from the scene after marriage. During her active acting says, Inyama acted alongside top actors and actresses.
She has featured in lots of movies which include Silent Night, Housemates, Bimbo, All My Heart, Love from Above, Blind Love, Days of Agony, Woman Rapa, Glamour Boys, Oga, and His Boys, Iyanga to mention a few.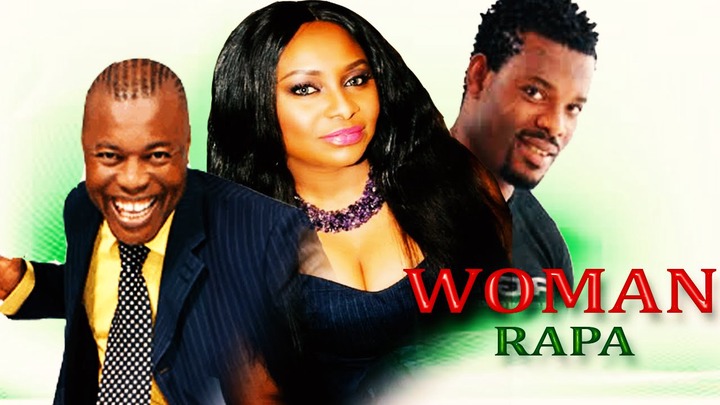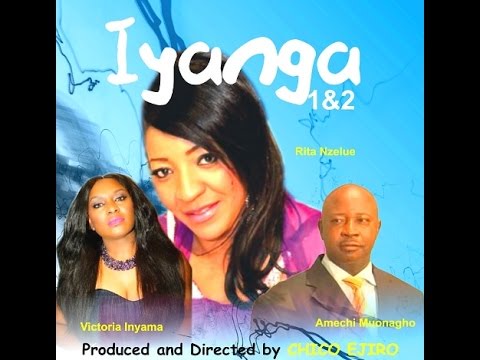 Inyama got married to her lawyer and renowned author ex-husband, Godwin Okri after which she relocated to the United Kingdom to focus on her family and motherhood which caused her hiatus in the industry that gave her fame. Although the marriage produced three lovely children, the couple are no longer together.
In February 2018, she pleaded for a divorce from her estranged husband on social media who she called a psychotic beast. However, he refused to grant her the divorce despite already living with another woman. They had split over allegations of domestic abuse and infidelity.
When it comes to motherhood, Inyama has a strong bond with her children as they make her life exciting. She said she lives for her children and will always be there for them.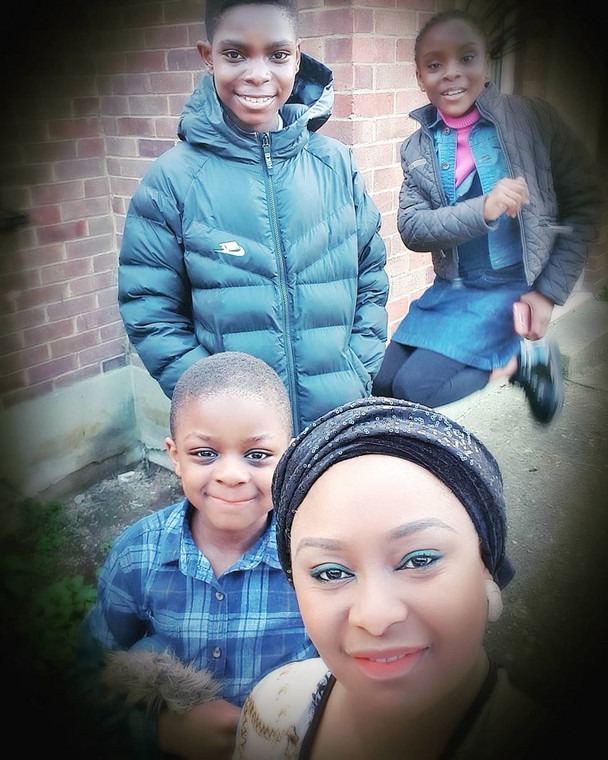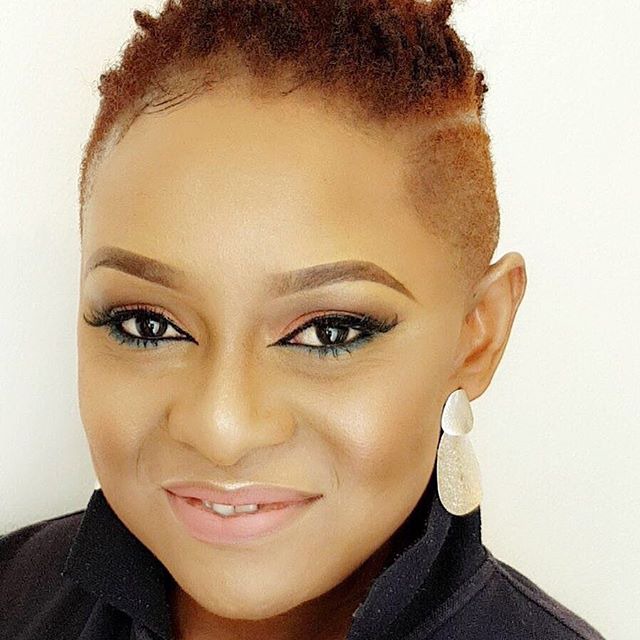 Through her social media platform, Inyama revealed her battle with cancer in 2006 as she underwent a 9 hours surgery and was woken up by the doctors and nurses with happy birthday songs. According to her, the treatment was the most painful and they didn't think she would make it.
And recently, Inyama narrated her harrowing ordeal she was allegedly subjected to by her ex-husband, Godwin Okri. She shared her story in an Instagram live chat with UK based mental health advocate, Malin Anderson.
Inyama revealed that she lived in fear as Okri allegedly threatened to kill her if she failed to do his bidding. She disclosed that when she opted for divorce due to how he treats and abuses her, he turned it down and also insisted that she is his property.
She also recalled getting arrested by her ex-husband in front of her kids and locked up for 12 hours while trying to protect herself and her three kids. Aside accusing him of domestic violence, Inyama claimed he once fed their son a food he was allergic and also dislocated the arms of their daughter. The beautiful actress revealed that it was her most humiliating moment in life.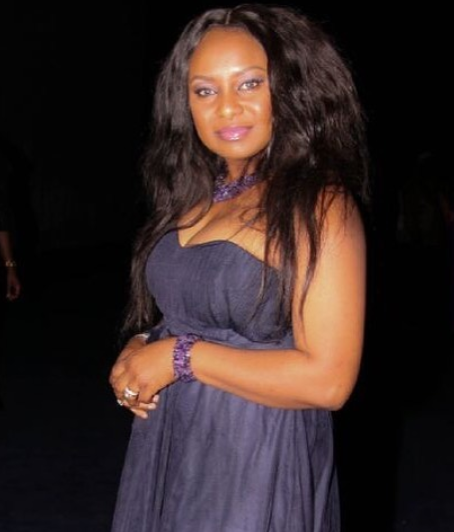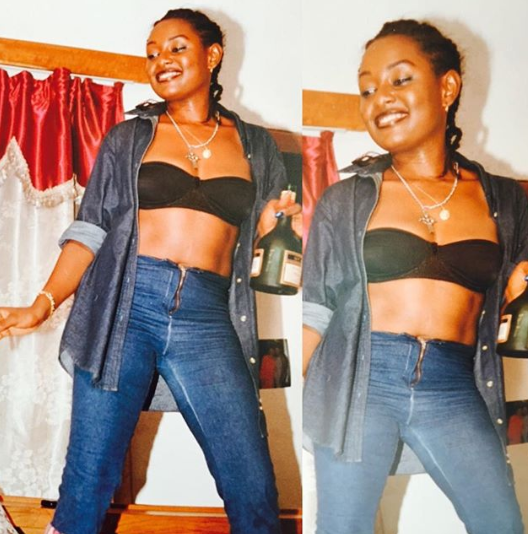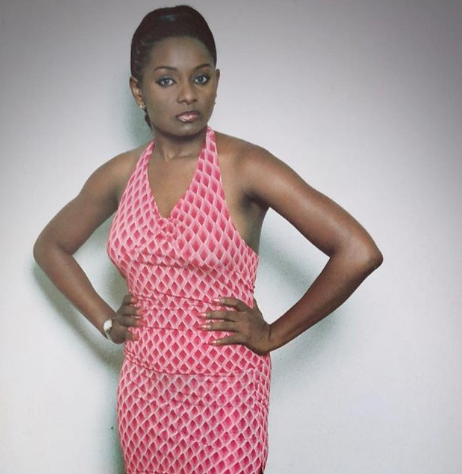 Inyama made a big comeback in 2017 in Talking Dolls a romantic movie which was rated as one of the best dramas of contemporary Africa. The movie which addresses societal issues, sex abuse, and their shortcomings was shot in London. The movie featured the likes of Daniel K. Daniel, Belinda Effah, Mofe Duncan, Yetunde Oduwole, amongst others.
Victoria Inyama obtained her first degree from the University of Lagos. She furthered her studies at the Lewisham Counselling School of London, to study counseling in order to help people mentally. She also attended the Greenwich School of Management in London. In 2016 she decided to pursue another degree.
Consequently, last year November, she graduated from the University of East London with a Bachelor of Arts in Psychosocial Studies with Professional Practice. On one of her graduation photos she posted on social media, Inyama wrote that the university gave her back all the confidence, self-worth and self-esteem she had lost in all the years of domestic abuse in her marriage.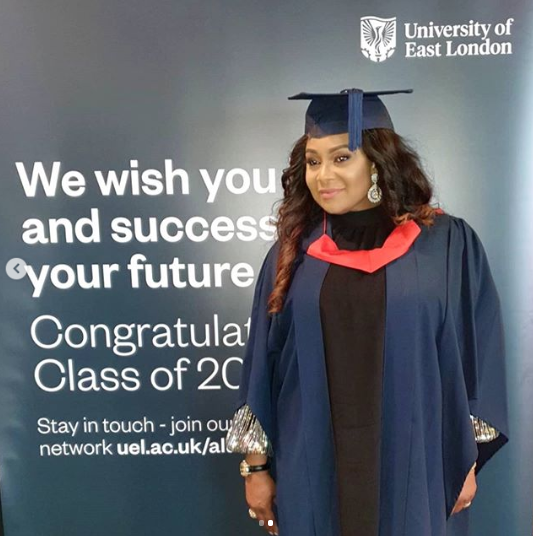 After her harrowing experience in marriage, today as a qualified Social Psychologist, Inyama advocates against violence, especially for women and children. An act she condemns in all its ramification. She also lends her voice to mental health. She's using her life's experiences to encourage and strengthen women. Inyama also uses her Instagram page to educate her followers on relationship and marriage issues, mental health, and other societal issues.
Dark skinned Victoria Inyama is more matured and still maintained her beauty after having children. The veteran actress loves to dance to unwind.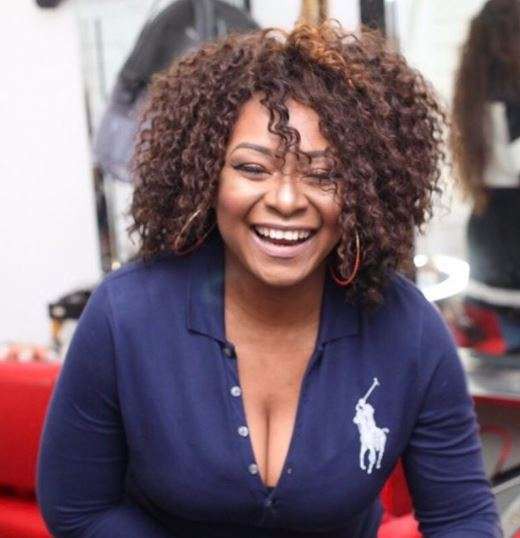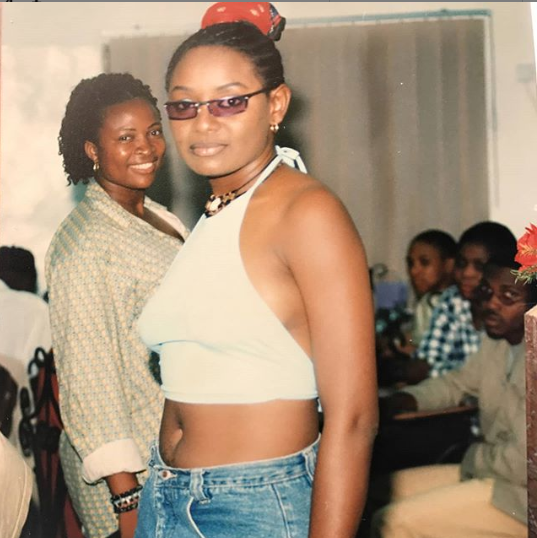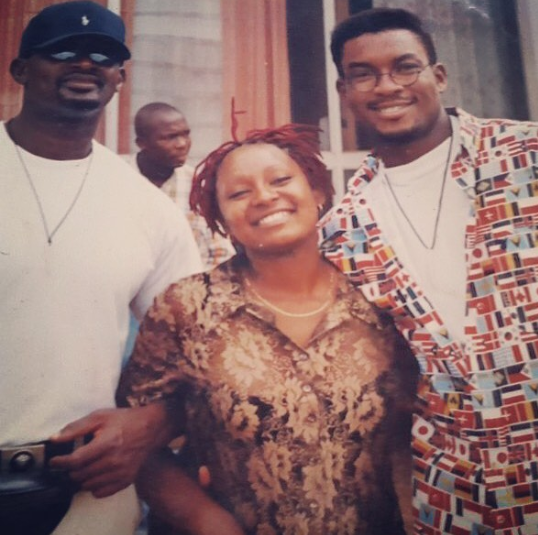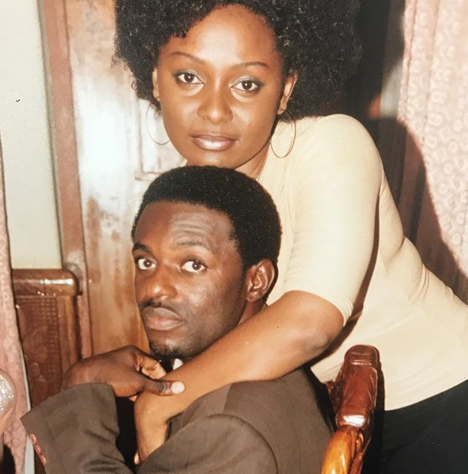 Victoria Inyama with Chidi Mokeme and another actor
Victoria Inyama and Jim Iyke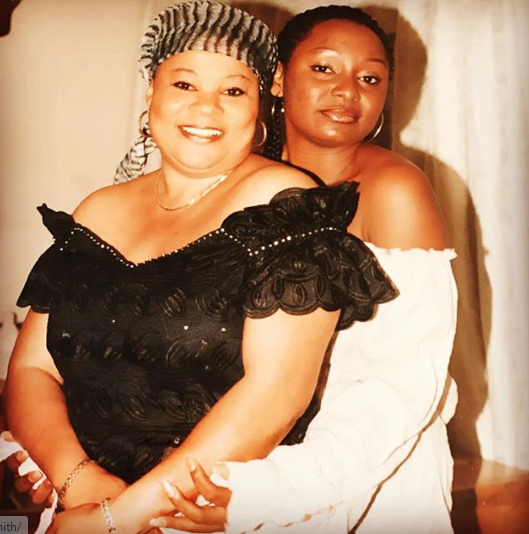 Victoria Inyama with veteran actress, Sola Sobowale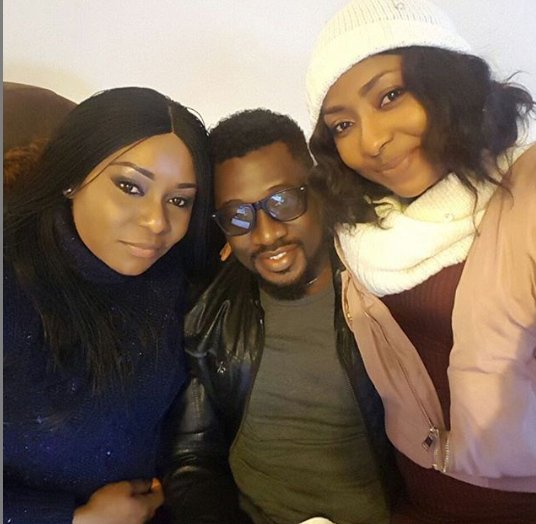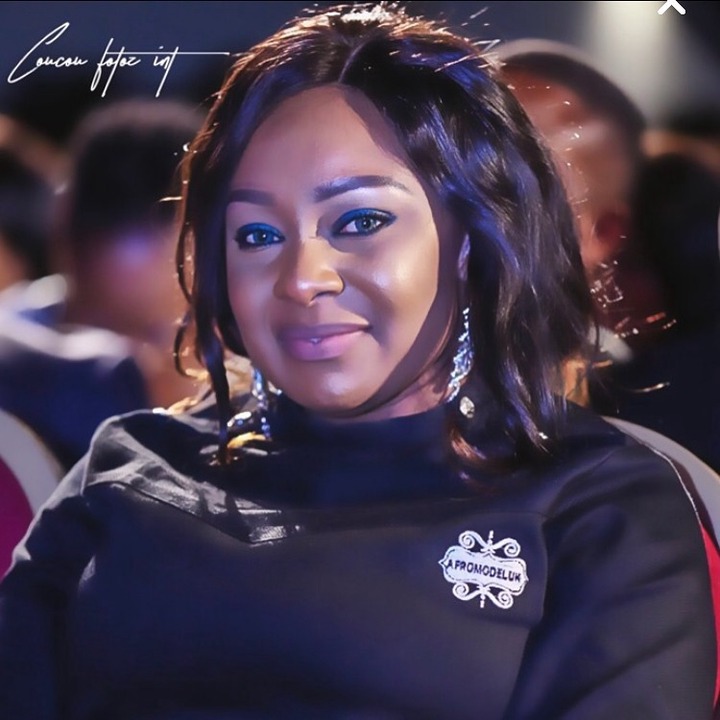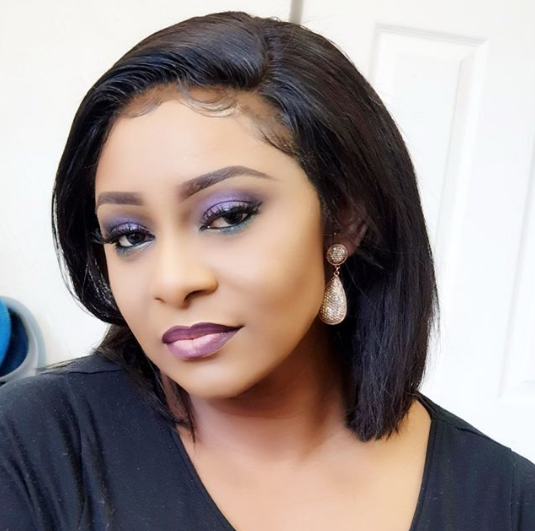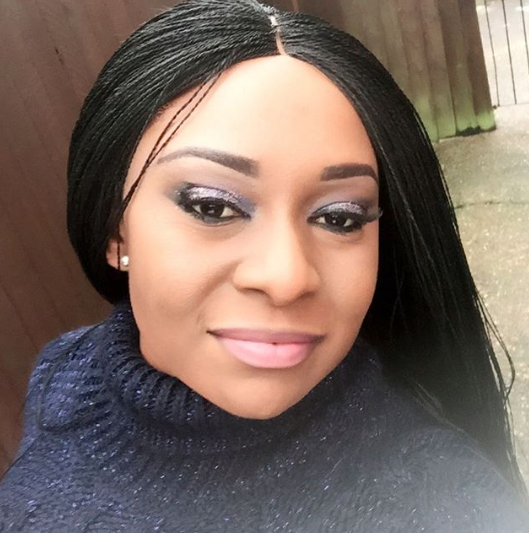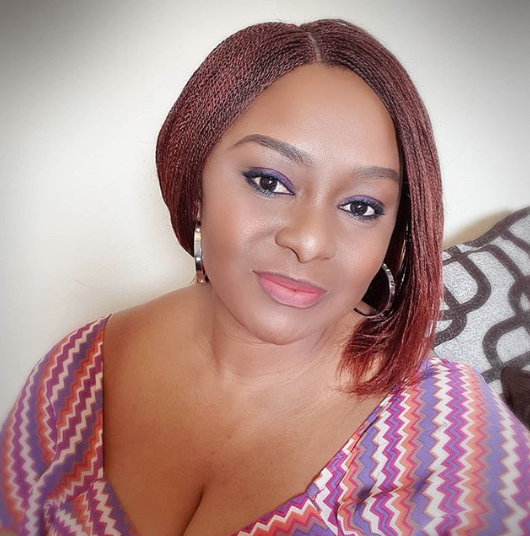 Victoria Inyama, Daniel K Daniel and Belinda Effah all featured in Talking Dolls movie
Well, whether she would return to Nigeria and Nollywood, that I cannot say, however, actress Victoria Inyama is one actress I'm sure Nollywood lovers would still want to see in movies. Have you missed her in movies? Drop your comments below.